Recipe + Words: Alyce Cimino
Food as medicine is one of my oldest loves, using food to not only nourish can be so simple to do, and this recipe is one of those simple things we can do to support our health in a big way.
Seaweed is jam-packed full of iodine, something most Australian women are deficient in. We as women require iodine for thyroid function and health, ovarian function, egg development, breast tissue, immune health, cognitive support, metabolic support… and yet when I test my clients, more often than not we see low pathology numbers.
A little bit of seaweed goes a long way, 5 nori sheet contains around 110 ug of Iodine – so a little sprinkle of Furikake here and there can go a long way! a little bit of iodine goes a long way, for some people they may need to limit their iodine absorption so if you are unsure, speak to your health professional and go gentle with the sprinkling.
Seaweed is also brilliant for children, supporting their growing bodies but also enhancing their immune systems. Leave out the chili and sprinkle some into their food too!
This recipe is gluten free, dairy free, vegan, paleo, and food as medicine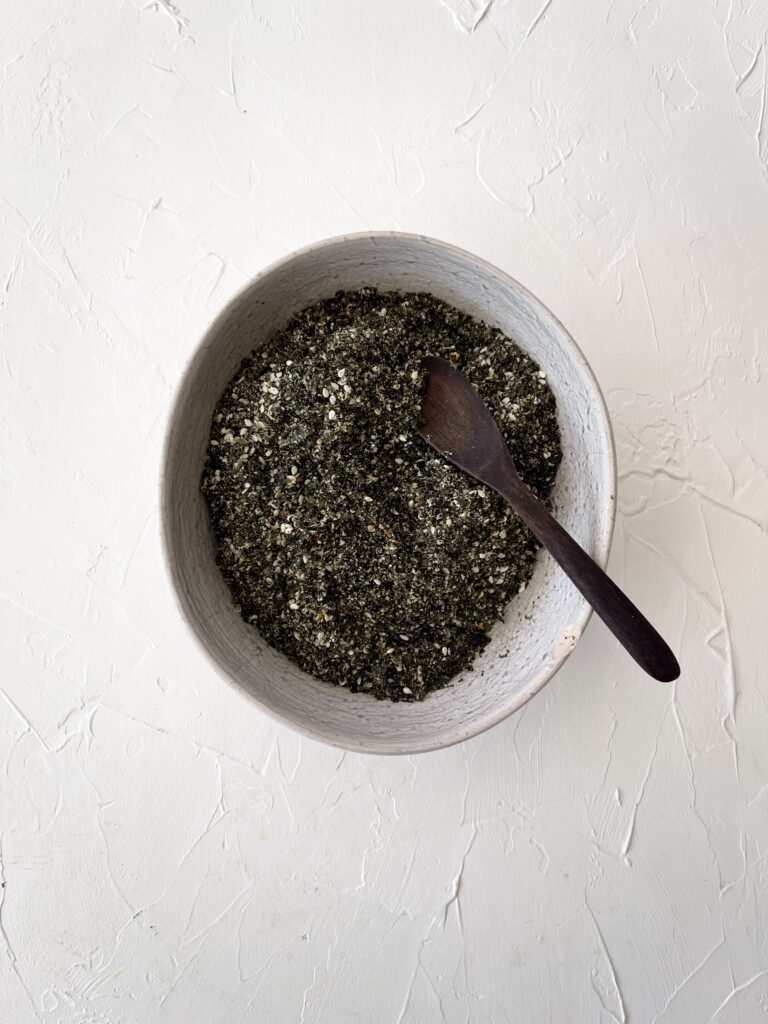 I N G R E D I E N T S
1 packet of nori sushi seaweed – organic if possible
1/3 cup sesame seeds
1 tablespoon good quality flakey salt
chili to taste – I used a tablespoon but you do you
M E T H O D
Roughly rip your nori sheets and add into a blender or food processor so it does all your chopping. You can also do this by hand using scissors – I used a blender.

Process until the sheets are chopped into large flakes and set aside.

Over a low head, add sesame seeds and chili and dry roast until golden and fragrant

Add the slightly cooled sesame mix, and salt to the blender and process for a few seconds. you want to ideally keep the blend with a few larger flakes.

Add to a glass jar and add it on top of salads, eggs, savory meals, and avocado.. the options are endless!
TIP: keep the desiccant (moisture absorber) and add it into your storage jar to keep it fresher for longer and stop the seaweed from clumping.
Other options:
+ Try both white and black sesame seeds for a different flavour and texture
+ Add extra herbs such as dried garlic, dried onion etc to mix things up a little bit