It is getting warmer and its time for slow afternoons nibbling dips in the sunshine. In our house, we get through a large amount of crackers – made and store bought. They act as a snack, as a hummus holder, saurkraut scooper and pate plate, so naturally, we want them to be as nutrient dense as possible.
As this recipe is gluten free and low carbohydrate it also means they can help stabilise blood glucose levels when used as a snack with some good fat. They are nut free so they can even go to school in lunchboxes! They don't take much effort to make and you can use the recipe below or a combination of your own seeds that you have at home.
what we love about them:
Firstly, they are delicious, so that is always a win! however, they are also super-rich in insoluble fibre (the happy bowel cleanout type of fibre), gluten and grain free, additive free, high in minerals such as zinc and they can even support hormonal health! I mean, quickly! go make some!
If you don't have these seeds at home, you can swap them for ingredients you do have. Other delicious additions would be; nuts, psyllium husks, cracked black pepper and rosemary, chili flakes etc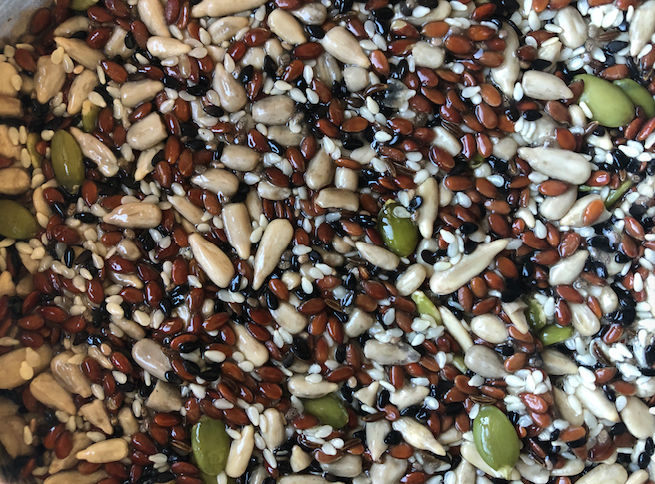 This recipe is Gluten free, Grain free, Paleo, Vegan, Dairy free, High fibre, Nutrient rich
INGREDIENTS
1/4 cup linseeds / flaxseeds whole
1/4 cup pumpkin seeds / pepitas
1/4 cup white sesame seeds
1/4 cup chia seeds
2 tablespoons black sesame seeds
1/2 cup sunflower seeds
1/2 teaspoon caraway seeds, lightly crushed to boost flavour
1/2 teaspoon of salt, or to preference
1 – 1.5 cups of water
METHOD
Place all the seeds into a mixing bowl, stir through the caraway seeds and salt.
Once mixed, add 1 cup of the water and mix well.
Leave the bowl and seeds to soak overnight, or for at least 4 hours. If needed add a little extra water.
On a lined baking try, evenly spread out the seed mix. too thin and they will crack under the pressure of hummus. Thicker may mean they take longer to cook.
Place into a dehydrator or low heat oven – I used oven, 140 degrees for 20 minutes with the door slightly open to allow moisture out.
Once seeds have hardened, remove from oven and place on a cooling rack.
Allow to cool completely, break into preferred cracker sizes and store in an airtight container. Crackers should last 1 – 4 days.