These little delights may be called postpartum tahini bites, but the reality is that everyone can enjoy them! Easy to make for little fingers to help out and indulgent for big kids to love them too.
The reason they are called postpartum tahini bites, is due to how nutrient-dense the tahini is – high in good fat, calcium, and iron to support breastmilk production, energy intake and the cacao brings a little bit of sweet comfort. We know when breastfeeding your energy requirements increase – this is why hunger increases immensely! It takes A LOT of energy to produce, create and feed a newborn … on top of the fact you are healing, your body is adjusting to growing a little human and being reborn itself.
Tahini is a sesame seed paste, you are able to find it hulled, unhulled and in both black and white varieties. It is rich in protein, good fats, b vitamins, essential minerals such as calcium and iron – 100g of tahini contains around 9g of iron, 430mg of calcium. Tahini has a milk creamy texture and can be found in both sweet dishes such as halva or savoury in hummus.
These bites are stored in the fridge, tahini can change consistency in heat. They also make a perfect treat to bring a friends when visiting their new baby! They only take a few minutes to make (aside from cooling) and can be frozen and pulled out when needed.
This recipe is Vegan, Raw, Nutrient Dense, High protein, Source of Good fats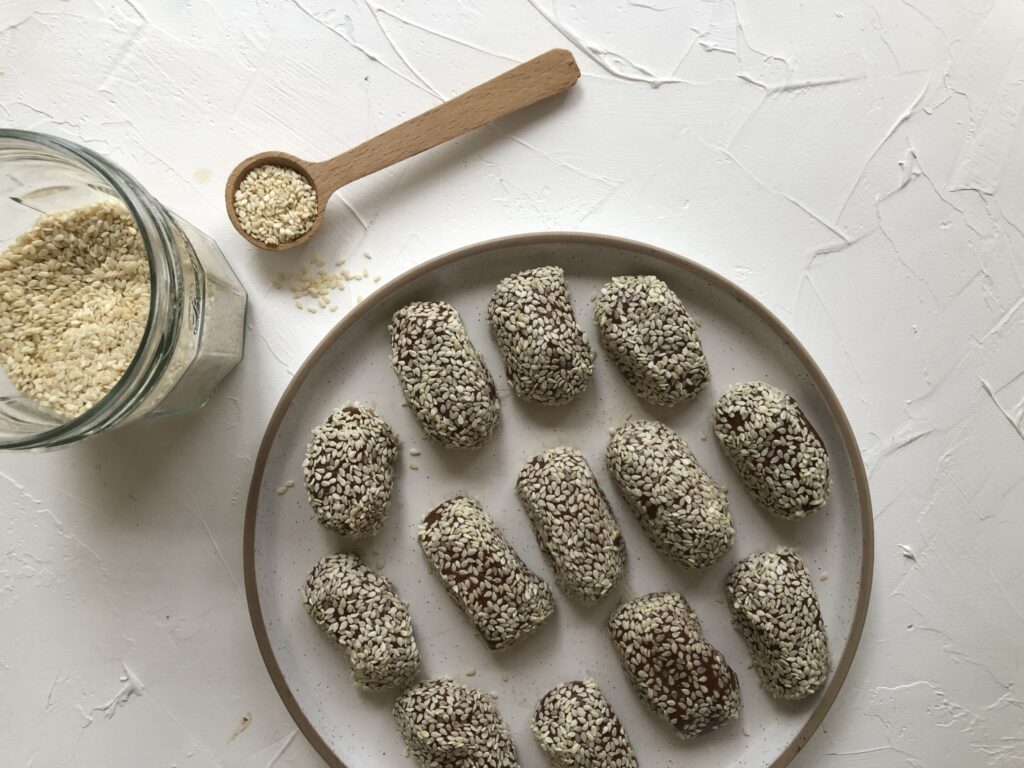 INGREDIENTS
1/2 cup hulled tahini (unhulled works here too, it will have a more nutty taste)
2 tbsp honey or maple syrup
1/4 cup almond meal
3 tablespoons coconut flour
2 tablespoons raw cacao powder
1/2 teaspoon cinnamon powder
pinch of salt
extra sesame seeds to roll in (coconut, hemp seeds or extra cacao would work here too)
METHOD
1. in a mixing bowl add the tahini and honey, stir well to combine and remove any clumps from the tahini.
2. add in the cacao powder, cinnamon, salt and stir again.
3. add in almond meal and coconut flour. Stir well until well combined. pop into the fridge to harden for 15-30 minutes.
4. once cooled, use a teaspoon and roll into balls (or logs) and roll in sesame seeds. Return to the fridge to harden until ready to nibble.
*if you don't have any coconut flour, you can add extra almond meal or do the whole recipe in coconut flour if you are avoiding nuts.
* I didn't this time, however, you can add some brewers yeast to the mixture to further support breastmilk production.
* you can also add a serving of collagen powder before rolling for an extra protein boost.